The Old Ball Game
Bluegrass Barons play 'base ball' 1869 style
Published 4:43 pm Tuesday, May 4, 2021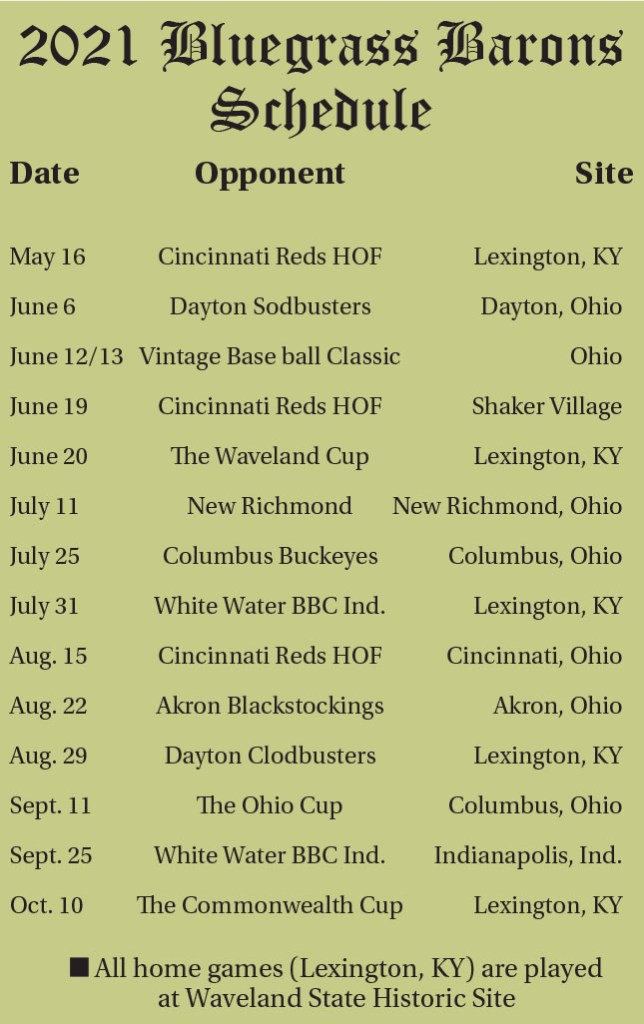 Ben Clouse spent 34 years playing softball, and after retiring, he and his son, along with his son-in-law, found themselves taking in a vintage "base ball" game between two Cincinnati-based teams. For Clouse, that was all it took to get him hooked on the old-time version of America's national pastime.
"I went home that night, and it's been going ever since," said Clouse.
That was 2015, and Clouse created what would become Kentucky's only vintage base ball team. On April 10, 2016, the Barons played their first game, picking up a win over a team from Vevay, Indiana, and they've been playing ever since.
Clouse, who is better known as "Pops" by his teammates and fans of the Bluegrass Barons Vintage Base Ball Club, said he loved it from the first game he saw, and he still loves it today.
"It's the history, it's the uniforms, it's the camaraderie between teams from all over the central United States, and even California and Florida. It's pretty cool," he said.
The Barons typically play teams from within their region, with many on their schedule hailing from Ohio and Indiana. On Sunday, May 2, they played host to the Long Nine, a team from Springfield, Illinois, and won a doubleheader.
"We played in Dayton a couple of weeks ago. Being the only team in Kentucky, you've got to travel a long way to play," Clouse said.
At first glance, one might expect the old-style game to be played at a leisurely pace, but Clouse said the games are very competitive, and everybody usually gets along, although there are disagreements from time to time on things like the rules of the game. While most teams, including the Barons, play by 1869 rules, other vintage teams play by rules from the earlier 1860s, and they can vary from team to team.
Clouse explained that 1869 rules require outfielders to catch a fly ball in the air to record an out, while the rules from the early 1860s allow a ball to be caught on the first bounce, or bound as it was referred to in those days.
"It' seems like at every ballpark there are different rules," Clouse added.
Perhaps the most noticeable difference in vintage base ball from today's game is that the defensive players don't wear gloves, but instead field the ball barehanded. And the pitcher delivers the ball to the batter, or "striker," via underhanded pitches. Although there is an umpire behind the plate, you won't see him calling balls and strikes unless the pitcher deliberately delays the game by failing to throw a good pitch, or if a batter continues to not swing at good pitches. When either of these happens, the pitcher or batter will receive a warning, and the umpire will begin to call pitches at his discretion. After that, three strikes for a batter is an out, and three balls by a pitcher is a walk.
Another thing about vintage base ball that stands out quickly to a first-time fan is the nicknames of the players. Almost every player has one, and while "Pops" Clouse said some guys already had a nickname when they joined the team, others may be given to players by their teammates. David "Motown" Allen, another member of the Barons, agreed.
"The nicknames are a part of vintage base ball. I think it's an homage to the old-time ballplayers who used to travel from team-to-team, and all they would be known by was their nickname," Allen explained. "Every player has a nickname that they go by, and typically those nicknames are chosen by the players themselves. Every player has a story or reason for their chosen nickname . . . Ben "Pops" Clouse is the oldest of us, Thomas "Hooker" Hall normally goes by TJ, so it's a play on the old TV show "TJ Hooker"; Jason "Speedy" Wells because he is the fastest of us, and my nickname is "Motown" because I'm originally from Detroit. The funny thing is that we use the nicknames all the time – during games and practices, on and off the field – so much so that it's possible to forget what each others' real names are. We simply know each other by the nicknames. And that adds to the camaraderie."
The season begins in March and wraps up in October, according to Clouse, who grinned as he added, "Once you see a game, you fall in love with it. It's just fun."
The Barons play their home games at Waveland State Historic Site in Lexington, just across the Jessamine/Fayette County line. On a given Sunday, you can find men of all ages playing the game the way it was played in 1869, with the rules and equipment of the day. Fans bring their own chairs and will be able to enjoy a game up-close and personal. Admission is free to all games this season for fans of all ages.
You can follow the team on Facebook by searching for Bluegrass Barons.
More News