CARMICHAEL: Celebrating a first birthday in unprecedented times
Published 2:43 pm Thursday, October 1, 2020

Today, my family celebrates the first birthday of my first great-granddaughter, Giana.
As one of her caregivers, I have been blessed to share in many of her milestones over this first year.
I've seen her turnover for the first time, sit alone, crawl and take those precious first tottering steps.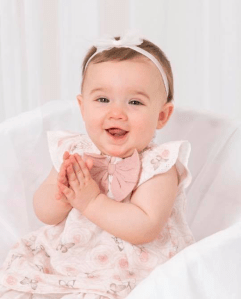 I heard her first word and cried tears of joy when her first two-word sentence was "Hi, Nana" on my arrival one morning.
At a time when many grandparents (and great-grandparents) are separated from their loved ones by both miles and circumstances, I am well-aware what a privilege it is to be able to spend my days with this little one.
Like many of the babies born in 2019 and most of the babies born in 2020, the pandemic has been an unwanted interruption in the anticipated first year of Giana's life and the lives of the rest of our family, but we have adapted and even discovered some silver linings.
As a member of the Geri-Antic set, I was cautioned to stay at home for weeks at a time.
However, at the same time, her mother's office closed allowing her to stay home with her baby. Dad (who works at the University of Kentucky's Chandler Medical Center) found himself busier than ever and was able to keep the family afloat.
As we continue to navigate the uncharted waters of the COVID crisis, this week's birthday celebration will be curtailed to accommodate the restrictions imposed on us to keep everyone safe, but this precious life and gift to our family will certainly be celebrated.
The first year of life of babies born at this time has been unique to be sure.
Not since the 1918 Spanish Flu pandemic has the world experienced such a profound impact on the lives of its international citizens; but I
choose to believe that this new generation will continue to write their own glorious story.
I have no doubt that Giana Christine-Lee Webb is destined to do great things.
Happy first birthday, my precious girl.
More community columnists