East Jessamine seniors McNew, Thomas commit to Asbury
Published 5:22 pm Tuesday, May 4, 2021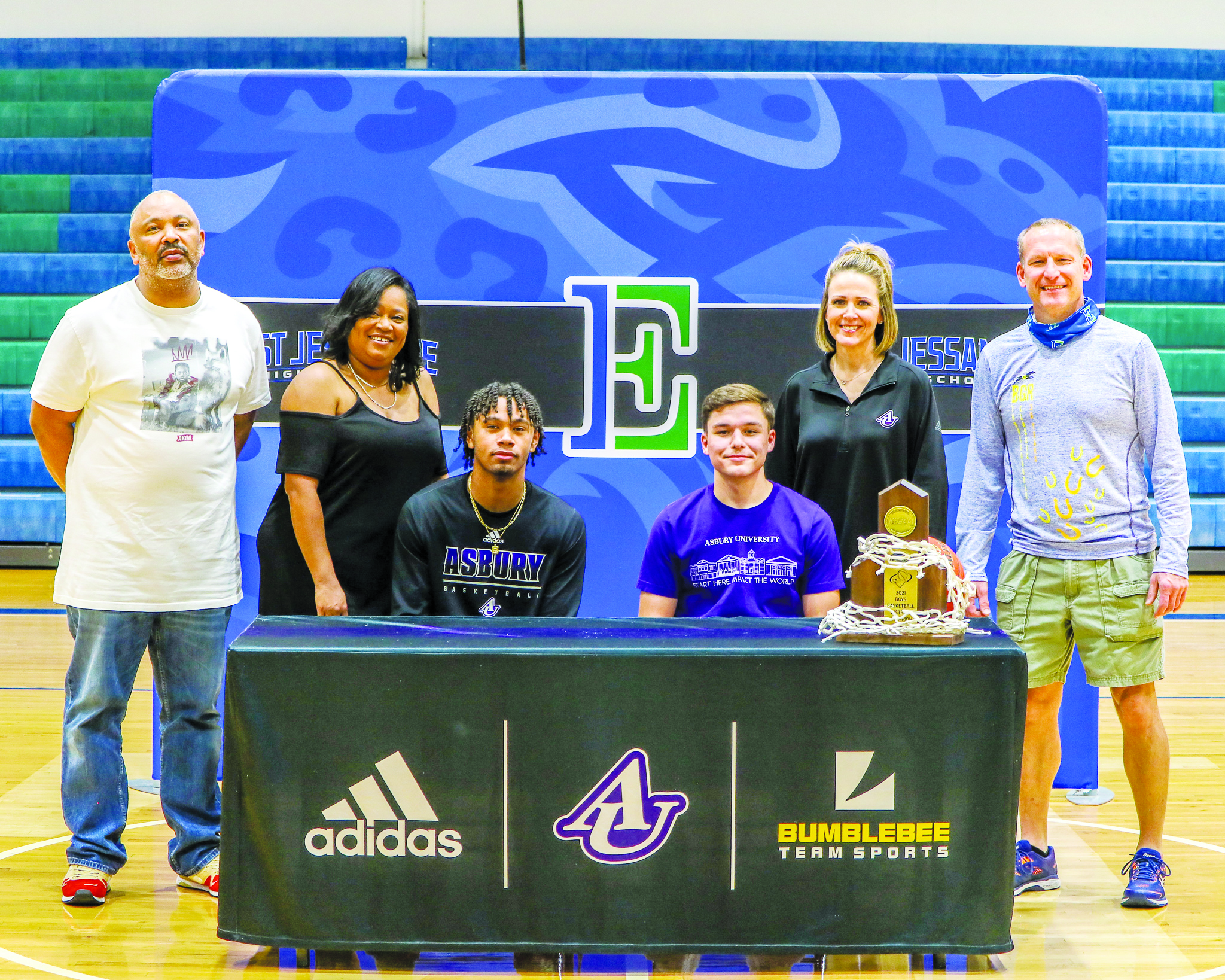 By Clinton Riddle
Contributing Writer
Two seniors on the Jaguars boys' basketball roster capped off a memorable season with commitments to Asbury University for the coming fall semester.
Ben McNew and Zion Thomas both made public their announcements on April 27 at East Jessamine, with each signing their commitment letters as approximately 40 friends, family, and East Jessamine staff looked on from the bleachers.
McNew and Thomas finished first and second, respectively, in points per game (16.9 and 15.4), with Thomas finishing ahead of McNew in shooting percentage (50.4% to 46.4%). Thomas led the team in rebounds per game with 7.7, with McNew finishing second at 6.2 per game.
McNew also finished his East Jessamine career ninth all-time in career points with 1,012.
"Coach (Will) Shouse said I'll fit right in with the team, and he's excited to coach me," said McNew. "My first year I want to learn as much as possible and get used to playing with my new teammates."
McNew has played for East Jessamine since middle school, winning an offensive player of the year award as a freshman on the junior varsity team, in addition to his academic all-state award that same year. Among his other records and honors for the Jaguars,
McNew set the single-season record for most three-pointers made with 72 in his sophomore year. He plans to major in exercise science.
Thomas finished his high-school career with 960 points and 530 rebounds, the loss of seven games from this year's schedule due to COVID restrictions having likely cost him a chance at the thousand-point mark. He has yet to officially choose a major, but said he would like to work in physical therapy.
"The reason I chose Asbury was when I went on a visit there, I really liked the campus a lot, and I liked how they ran everything with school, church, and their sports programs, and they made me feel like I was at home when I went on my visit," said Thomas.
"I've talked with the coaches and they said they could see me fitting into the way they play and the tempo they play at," he added.
Aside from personal achievements, both McNew and Thomas count winning the 46th District championship over West Jessamine and advancing to the second game of the 12th Region Tournament as among their favorite moments as high school players.
With McNew and Thomas having played together for their high school careers, now entering their college years on the same roster, Asbury will surely benefit from the chemistry between the two former Jags. The Asbury Eagles finished 15-6 overall in the 2020-2021 season, advancing to the quarterfinals of the River States Conference Championship before losing a 71-70 heart-breaker to the Point Park Pioneers on Feb. 24.